Leadership
About Us » Divisional GM/CEO » Vele Rupa
Vele Rupa
General Manager - Corporate Affairs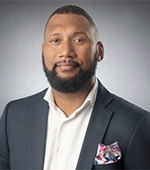 Steamships welcomed Mr. Vele Rupa in May 2022 as General Manager – Corporate Affairs.
Vele has a background in the petroleum and mining industry with over 10 years' experience in both the public and private sector.
Prior to Steamships, he has worked with the Mineral Resource Development Company, Department of Treasury and ExxonMobil PNG. Vele also has worked on resource projects as Papua LNG, P'nyang, Porgera, Pasca A, and more recently Wafi-Golpu during his time with Mineral Resources Development Company (MRDC) as a part of the State Negotiation Team.
He holds a double degree in Political Science & Public Policy Management from the University of Papua New Guinea.
Steamships Trading Company Limited
@345 Building, Levels 1-2, Stanley Esplanade, Section 20, Allotments 3,4 and 5, Port Moresby, National Capital District, Papua New Guinea
P.O. Box 1
Port Moresby
National Capital District
Papua New Guinea
Tel

(675) 3137400 or 79987000