Leadership
About Us » Divisional GM/CEO » Greg Kettleton
Greg Kettleton
JVPS National Terminals and Operations Manager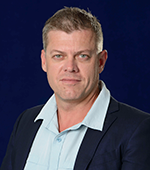 Mr Kettleton joined Joint Venture Port Services (JVPS) in late 2014 and brings with him a wealth of experience in bulk and general stevedoring, container terminal operations, semi-automated container terminal operations involving automatic stacking cranes along with Navis sparcs, Kalmars auto stacking crane (ASC) operating system and Now solutions fleet management systems.
Prior to joining JVPS Mr Kettleton was with DP World, (formally P&O Ports) as a Training Coordinator, Workplace Trainer, and Stevedore Quay Crane and Machinery operator. Additionally, during DP World Brisbane's mode change to a semi-automated mode of operation (2013 - 2014) Mr Kettleton was extensively involved in coordinating the successful training of 80 new straddle operators through the use of the ARI Straddle Simulator and the further training and certification of 30 ASC operators.
Mr Kettleton holds a Dual Diploma's in Training and Assessing and Training Design, Cert IV in Training and Assessment, Certificate III in Transport and Logistics, Queensland Government High Risk work Licence Assessor and holds Australian High Risk Licences for: Advanced Rigger Several crane types and Forklift, along with a Trade certificate in Carpentry and Joinery.
Mr Kettleton has a very strong training background and has been heavily involved in the significant training initiatives rolled out for JVPS, and established JVPS's own PNG Registered Training Organisation.
Steamships Trading Company Limited
@345 Building, Levels 1-2, Stanley Esplanade, Section 20, Allotments 3,4 and 5, Port Moresby, National Capital District, Papua New Guinea
P.O. Box 1
Port Moresby
National Capital District
Papua New Guinea
Tel

(675) 3137400 or 79987000